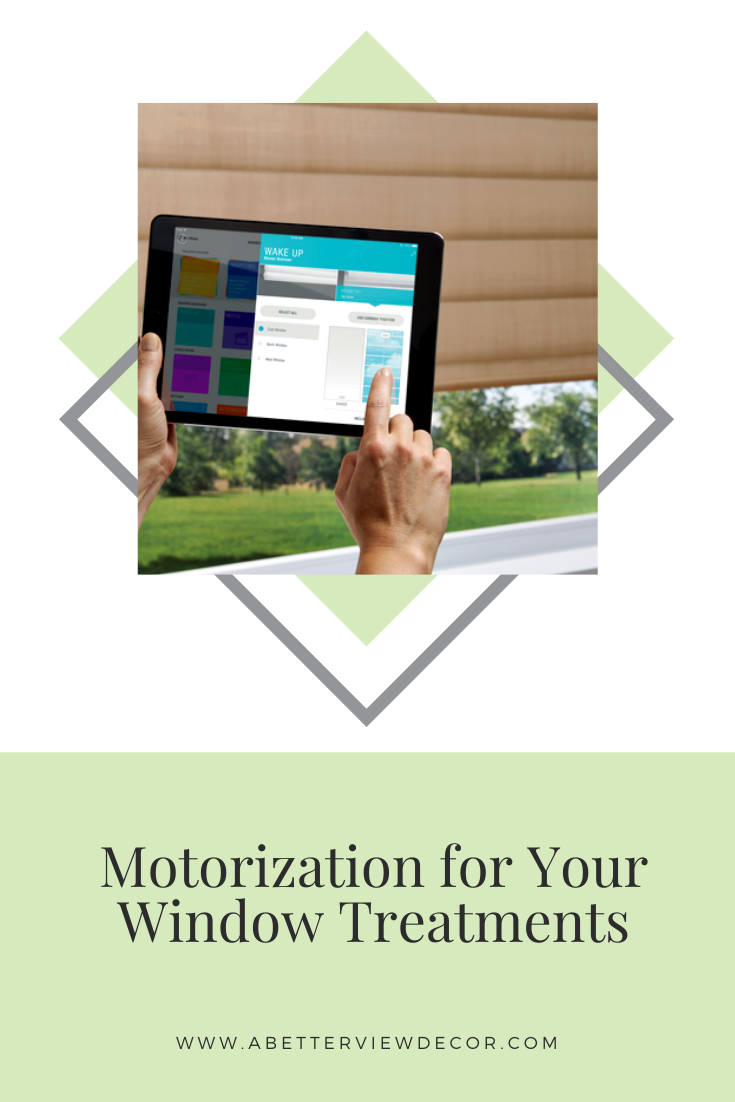 Motorization for Your Window Treatments
It seems these days we are automating and motorizing everything; from our doorbells to our thermostats, we can control almost everything in our homes remotely.
So, it should come as no surprise that motorized window treatments are totally mainstream and the demand has caused them to become more budget-friendly. A Better View Decor talks about motorization options or cordless lift operation in every sales call; 100% of our clients want to know more about this topic. Motorization is the ideal solution for the masses at this point and is starting to become the new normal way to operate shades. Perfect for people who want convenience and peace of mind.
Here are some of the benefits of Motorization for Your Window Treatments
Automatic timers
As surely as the sun will rise in the east and set in the west, you can tell exactly where the sun will be at each stage of the day. Rather than keeping your window shades open all the time inviting in too much heat and sun or leaving them closed all the time, you can automate the windows so that they rise and lower themselves at set times of the day. For example, if the sun is beaming into your kitchen in the afternoon when you are trying to cook dinner, then let the shades automatically lower themselves to block out the sun! Or perhaps while you are at work, then you can return to a cooler home when you arrive, and you can also save your furniture, flooring, and artwork from the damages of the sun.
Ease
Motorization is easy to control and makes our mindset peaceful. With a quick intuitive program control from an APP on your phone, you can get back to living and not worry about letting in a little more light each morning or closing the blinds at the end of the day. Motorization will help you control the temperature of your home better and makes it look like someone is home moving the blinds so gives you a sense of security also. Cords are hideous and dangerous, so motorized or cordless is the best way to go with window treatments.
Money
In the long-run, this automation has the potential to save you some on your energy bill. By letting in the natural light when it is most beneficial to you, you can regulate things better so that your power usage is kept lower. Additionally, some automatic window treatments have rechargeable motors, no need to ever change batteries and help eliminate our garbage footprint.
Safety
By raising and lowering your window treatments, even when you aren't at home, you can give the illusion that you are there. You can rest easy on the beach in Costa Rica, knowing your home is safe.
Did you know that corded window blinds have officially been banned for child safety? One way we can better protect our children and pets is by replacing corded blinds in your home with motorized window treatments.
All of these have different features, including the ability to automate everything based on a localized remote control or from a great distance using a smartphone app. Many of these apps also easily integrate with home systems such as Alexa and Google Assistant. Additionally, they can be programmed to fully automate the system. You can even set them to open the blinds in the morning to wake you up with the beauty of the morning sun.
Regardless of which system you go with, motorization is an option you can not afford to live without. Let us help you make your home reflect the perfectly right image, perfectly you, and perfectly automated with motorized window coverings.