Shades for Your Denver Home.
So many innovations to choose from in this section! Faux or wood blinds, cellular shades, rollers, or pleated being the most popular.
Cellular Shades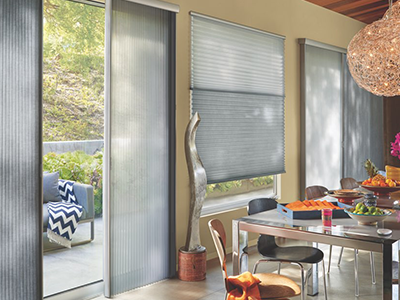 Cellular shades are proven as the most energy efficient window treatment on the market and can offer tax rebates to consumers. Features and Benefits include sleeker, stronger headrails. Cellular shades are light, yet extremely sturdy with color coordination to the fabric and they have a space-saving profile. They feature resilient components for worry-free operation with a unique D-Cell structure that creates perfect pleats for long-lasting beauty and have remarkable strength even in hot, sunny or humid climates.
There are various Cell Sizes, Light Control Options and Colors – typically cell sizes are 3/8" single, 3/8" double, ¾" single, ¾' double and 1 ¼" single offered in Sheer, Light Filtering, Semi-Opaque and Room Darkening for light and privacy control. Flame resistant fabrics and designer prints available and Child Safe & Flame Resistant are not to be ignored. Cordless lift system provides a safer option and Patented child and pet safe cord release device has been installed, and finally, flame resistant fabrics are available for added peace of mind.
Cellular shades offer superior Lift Systems like: Standard Cord which offers a smooth and consistent ease of operation or Continuous Cord Loop which features a unique clutch system making raising and lowering easier. Available in standard cord loop, Top Down and perfect on French doors and sloped windows to minimize light leakage and maximize privacy. Dual Shades can be great also. Cordless: Easy to operate and eliminates cords for added beauty and safety. Top-Down Bottom-Up (Corded & Cordless) allows you to adjust your lighting preference and control your privacy level by lowering shades from the top to let in natural light, or raising them from the bottom like a traditional shade. Don't forget Patio Door Vertical Honeycomb Shades which are cordless or Motorized and available in Bottom Up, Top Down.
Shades are a very versatile window treatment for your Denver home's windows. Most shades are energy efficient and come in a large variety of color and material choices. A Better View Decor can help you navigate all of the window shade options such as cellular, pleated, Roman, woven wood, solar and roller shades.
Roller Shades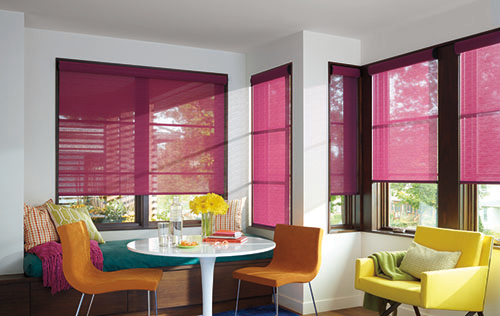 Trending right now are roller shades, featuring many opacities and design styles. The latest sheers, light filtering, solar screen and blackout fabrics; select fabrics are NFPA 701 and GREENGUARD certified.
Roller shades now include safer lift systems, including our cordless and motorization options.
Cordless: To lower, gently pull the shade by lifting the handle to the desired location. To raise, gently pull downward and the shade will rise automatically, smoothly and dependable.
Motorized: Choose battery-powered or plug-in option.  Motorization comes with a 15-channel remote and operates multiple shades individually or simultaneously.
Here are some different opacities to examine:
Sheer: Provides an atmospheric touch with significant view-through while softening the outside view. A perfect complement for Dual Shades.
Light Filtering: Offers a wide range of light diffusion from bright to dim. Ensures privacy and may reveal shapes or outlines depending on fabric.
Room Darkening: The fabric blocks almost 100% of incoming light. A perfect choice for environments where blackout and privacy control is a must.  You can choose from a wide array of valance/ fascia options to cover the fabric roll, including curved and square fascia, fabric valance or a deluxe wooden valance.
Hem bar options include: Plain Hem Bar: Clean, sleek and sturdy; perfectly weighted to provide seamless function. Fabric-wrapped Hem Bar: The matching fabric wrap provides a more uniform look throughout the shade.
Roman Shades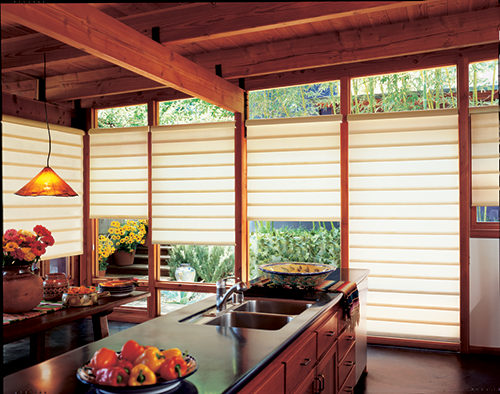 Roman shades can be manufactured with any fabric which allows clients to feature their personal style. Manufactured in the USA, and high quality. Whether you prefer a flat style or pleated seams, or a hobbled style with large folds, Roman shades are a clean approach to home décor.  Roman shades look great on their own or combined with stationary side panels or a top treatment. Roman shades can have a liner on the back that hides the strings (both light filtering and blackout liner available) and lining the back will help children's safety. They can be done top down bottom up or cordless or
Woven Wood Shades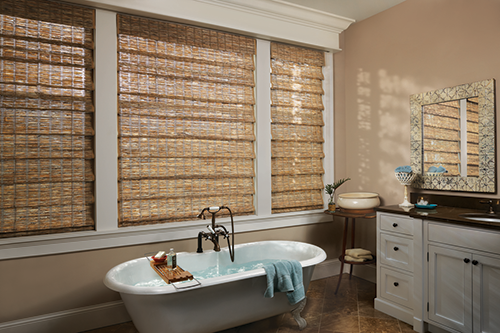 Wood woven natural fibers can be done in either roller or roman shades. These are an ideal application for today's eco conscious customers and really work well to bring a bit of natural texture to home décor. A Better View Décor feels that using a sustainable resource is smart decorating as most of these natural fibers, grasses and bamboos, can reproduce themselves rapidly. Woven woods can be done in any window or sliding glass door. Great application for those French glass insert office doors that newer homes have off the front entry way, as they filter the view into the office and look great on both sides of the window treatment. Sliding glass doors can feature a vertical drape application with a decorative cornice or a sliding panel track design.
Sheer Shading Systems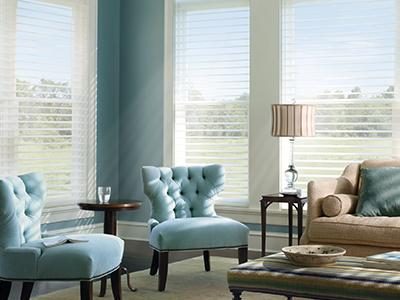 Sheer shading systems are ever-present in the world of window treatments. It is a modern way to filter like with sheer fabric that rotates to allow blockage also. This product allows the user to have daytime privacy, which means you can see out but no one can see in and filters the light beautifully. Many different lift options are available and the product will roll up into a headrail cover for efficient use of space. There are coordinates with this same look for sliding glass doors or vertical application. Perfect way to filter light in a more modern way than sheer panels under drapery. We highly recommend this product for today's décor in most homes.
We can help you Décor It! Contact us today to see what we can create for your Denver home's windows.