Top Treatments for Your Denver Home.
Nothing finishes off a window like a beautiful top treatment. A Better View Decor offers quite a large selection of top treatments for your Denver home's windows. Top treatments can be used alone or paired with drapery, stationary side panels and other inside mounted window treatments.  From valances to cornices, wood design to fabric or natural materials, we have a variety of custom top treatments. Top Treatments are magic and can make the appearance of a higher ceiling in a room or make a window look larger!
Valances
Valances are treatments that cover the top of the window and the drapery hardware.  Custom valances offer such a wide variety of choices in design and fabric. A Better View Décor can come and help identify your personal style with complimentary design ideas – just ask.  A valance can be simple or elaborate and is usually made from decorative fabric or wood woven natural material.  Valances can be hung from a decorative rod or a board. Some of the different shaped valances are called box pleat, arched, scalloped, pointed, gathered, tailored, regal, mock Roman or stagecoach to name a few.
Cornices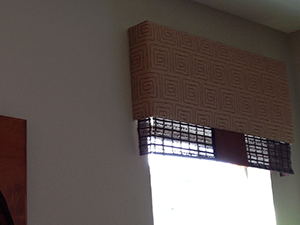 Cornice treatments are installed onto a lined wooden board. Cornices generally feature padded and upholstered sections. A cornice can be made from many different materials including wood, metal and fabric. Outside mounted cornices will have custom returns on them to the wall. Cornices can be done in many of the styles listed above under valances, but not rod mounted as they are upholstered boards cut into the shape you want. Lambrequins & Cantonniers are elaborate cornices which extend all or part of the way down the sides of the window.  Cornices can be used alone on a window or combined with draperies, curtains, shutters, or shades. A Better View Décor makes custom headboards that are essentially cornices. Headboards are flat mount directly to the wall behind bed and creates a unique statement. Consider adding a cornice to your rental unit or dorm room to personalize the space and easily take it with you when you leave!
Swags / Cascades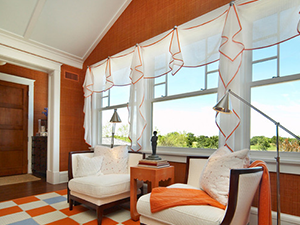 A swag, or festoon, is the fabric that is usually inserted between jabots on a valance. Swags are pleated on each end and form a piece of fabric that is full and heavy. Swags are cut on the bias and have a droop style to them that overlaps or scallops on the bottom.  Often surrounding swag top treatments are cascades that gently hang on each end of the swag. These are usually pleated and tapered, and can be short or long. Cascades that are long can be considered as side panels.
Sunbursts or Trillians
Sunbursts are usually sheer fabric done in a gathered way to filter light in an arched shaped or eyebrow shaped window. There are perfect arches and other shapes that many clients like to filter light through.
Trillians are an elaborate style to add décor with a splash of drama. Fabric can be secured at the top and bottom of the light source with Cornices at the top and bottom or can be done with a cornice securing the top and then tied and puddled at the bottom.
We can help you Décor It! Contact us today to see what we can create for your Denver home's windows.