Window Treatments for Specialty Window Shades for Your Denver Home.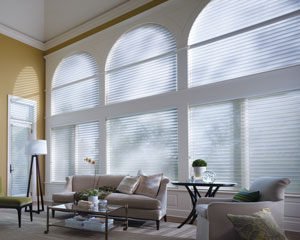 Arches, Bay Windows, Skylights, Circles, Eyebrows and more
These tricky window shapes can be confusing for a consumer to know the best options. Most of the time a visit or a photo of the room and window will determine the best way to cover the window. A Better View Décor representative can offer the right treatment that is exactly right, exactly you. Shutters, sheer shading, and even wood blinds can be used in special shaped windows. We may suggest drapery or a sunburst of material for these shapes also. Some treatments can be moved while others are more of a stationary design. Motorization can be helpful for high windows. We can source a special stain glass design and or window tinting also. Please call us to determine the best option for any shape or size window.
We can help you Décor It! Contact us today to see what we can create for your Denver home's windows.