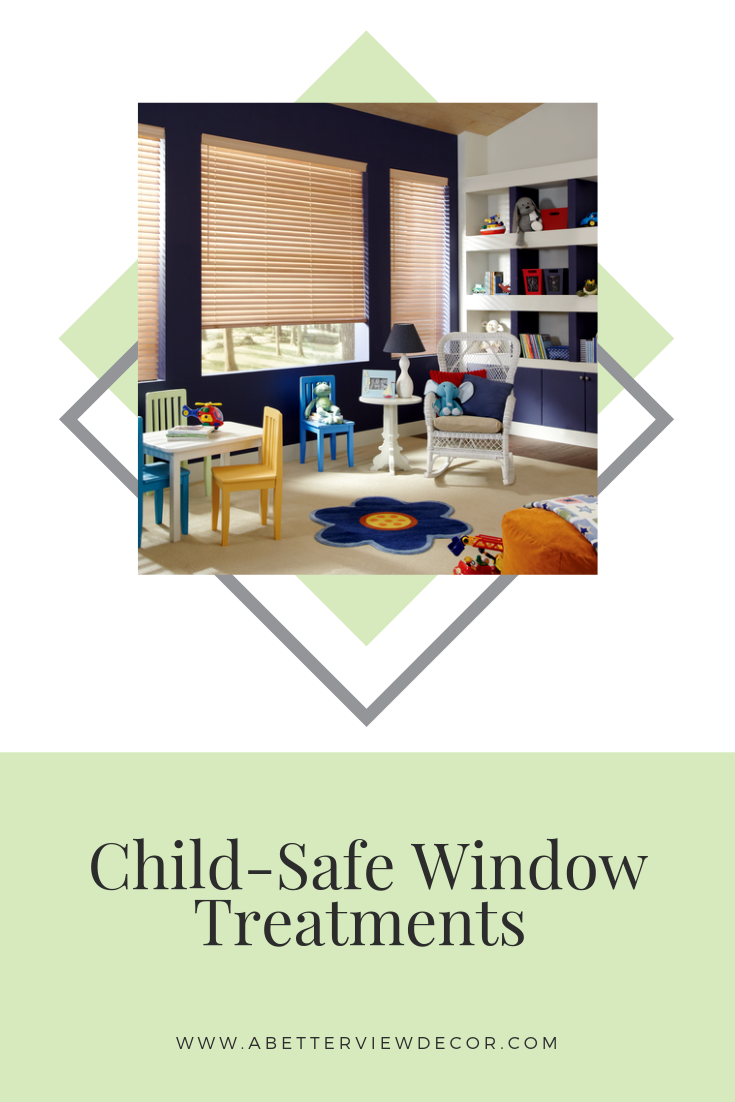 Child-Safe Window Treatments
Today, "baby-proofing" the home is common practice. We all recognize that there are dangers to the safety of our children in our homes. Please remember that while you're locking away the cleaning products and covering up electrical outlets, it is also important to consider window treatments. Window coverings could unwittingly contain potential dangers to your children.
Let's take a look at child-safe window Treatments
What to Avoid
In 2018, new regulations from the Consumer Product Safety Commission went into effect for all window treatments. These regulations mandate new specifications for all window treatments being sold moving forward. However, if you are living in a home with older treatments, please check to see that they meet the new safety requirements:
If you have a cord that hangs down, it has to be 40% or less than the length of the blind or shade.
The Corded Tilt feature on blinds are all replaced with ones that use a wand instead. The Corded Lift Feature is gone – only cordless or motorization will be offered.
If you do have treatments with a free-hanging cord, then the Consumer Safety Commission recommends securing the continuous cord loop to a wall or inside the window frame or adding a breakaway feature.
Looped corded (or chains) must have a device to prevent hazardous cord loops that can act like a noose and choke a child.
In addition, all new window treatments now carry warning labels with graphics depicting the choking hazards of these treatments.
Safer Options
So what options are available that are safe? Here are some recommended options: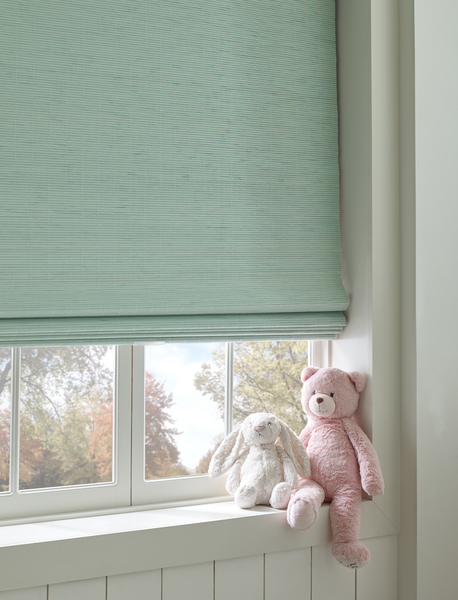 Wood Woven Shades
Bringing sustainable resources into your home is at the forefront of product innovation in the world of window treatments. Wood woven Shades can be done as rollers, Romans, or Sliding Panel Tracks – think grasses and bamboos.  So if you like a more natural fabric/material, that can be regrown on this planet (zero waste), please consider wood woven material shades. They allow you to move the shades up and down easily with cordless lift control and can also be motorized.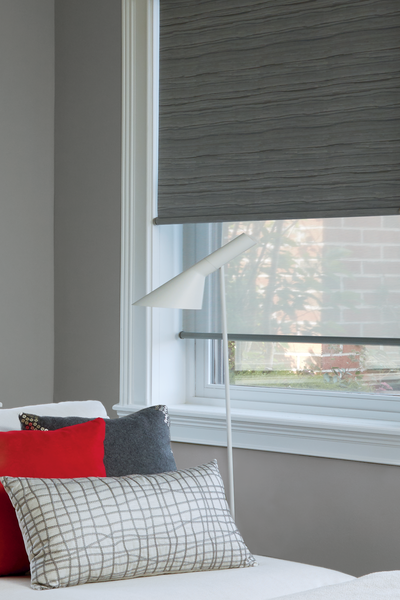 Roller Shades
Available cordless or motorized! Roller blinds are currently very popular and feature great solar sun screen and fabric materials, at a great price point!  All roller shades can operate on a cordless lift and can be remote controlled. If you have an older roller shade with a chain pull, then consider adding a breakaway chain connector or tensioner. Light bleeding on the sides is a common complaint with these treatments, the deduction on the sides is more than other products, but manufacturers now offer light block rails that can be easily installed to prevent this.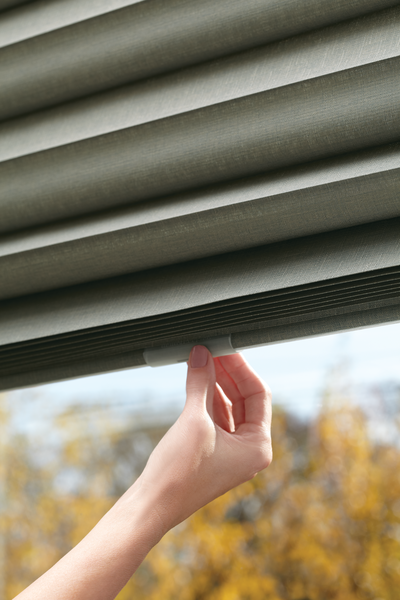 Roman Shades
This elegant style is quite popular in a flat or pleated style and looks pretty when folded up as a nice decorative valance. Securing cords to the wall or adding motorization make them safer, along with the fact that the backs of Romans are now lined in a way that no child can get their head in between the vanes. Not all Roman manufacturers are created equally, and custom Roman Shades should be always ordered from a professional to help avoid potential safety hazards.
Wood or Faux Blinds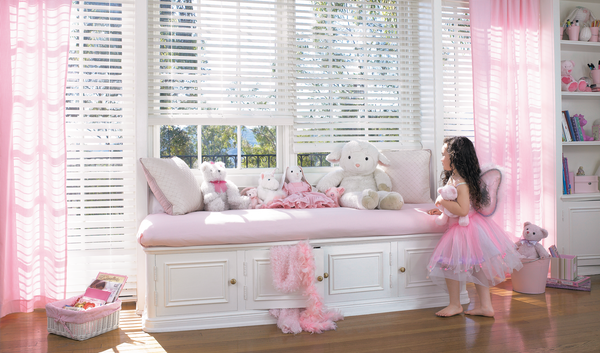 The safest way to make blinds up to code is to replace all corded products with cordless lift and wand tilt. If you choose Motorization, this will control wood and faux blinds to be tilt-only operation for most sizes. All major manufacturers have discontinued the use of cord lift for this product. Wood or Faux blinds are economical and easy to replace, as the corded products are illegal to sell now. Upgrading your old corded wood blinds with shutters is a great option to consider when remodeling or "baby-proofing."
Cellular Honeycomb Shades

Cellular construction is the leader in energy-efficient window treatments – these streamlined cellular shades have many fabric and color options. Great option to eliminate cords altogether! Not only can these be ordered cord free, but can also be top down bottom up cordless. Motorized cellular shades are the new normal and the ultimate in light control and safety. Cell shades complement most homes decor perfectly. Savvy home owners really love the convenience of operating these shades from their home automation system or from their phone, and many people are now incorporating this as a gentle calm way to wake up their babies (or teenagers!) from a nap.
Window Treatment professionals understand that your child's safety is of the utmost importance to you. It is now also a government regulation that all consumers should be aware of.  It is so important to use window treatments that are safe for all. The Consumer Product Safety Commission feels window treatments should be carefully selected whenever pets, elderly people, or children are present in the home and a window treatment professional can help you understand the latest innovations. Let one of A Better View Decor's designers help you choose the right window treatments for your whole space – we vow to keep you and your family's safety top of mind.