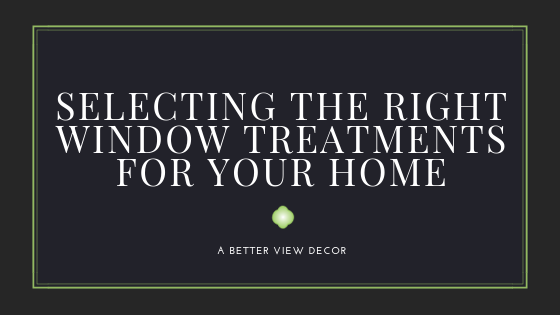 Selecting the Right Window Treatments for Your Home
When it comes to choosing the right window treatments for your home, there are many innovative options. A Better View Decor helps clients identify their personal style by explaining each style and its benefits.
Here are just a few window treatments to choose from and how they may fit with your unique style and taste:
Blackout Draperies
Blackout draperies are useful for those who need sleep during the day, have light sensitivity, or for people with children. They are also great for use in home theaters or to block that annoying streetlight glare. An added benefit is that drapery is useful for keeping the cool inside in the summer and blocking the cold out in the winter, making a home more energy efficient. Please keep in mind that cellular honeycomb style shades are the most energy efficient product on the market.
Blackout draperies are a stylish and sophisticated finishing touch, we love to recommend the Ripplefold Style on a track and offer a great selection of patterns and colors that you can see and feel in your home during our complimentary consultation.
Blinds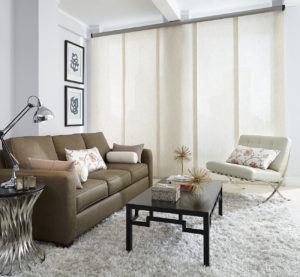 Blinds come in a variety of styles. The traditional horizontal slat style are often seen in windows, as well as the tall vertical style, but there are many updates in this arena. Faux wood or real wood slats are the most economical treatment – our designer touch features a valance with returns, adding elegance to this simple design. Vertical solutions now include Sliding Panel Tracks: think of 5 panels (approx 17-30" each) that stack back behind one another like a deck of cards – perfect for an updated look for a slider and can be featured with natural texture materials called wood wovens or fabric or solar sunscreen materials. Sheer Horizontal shading systems feature soft slats that allow you to filter the light and see out, while maintaining daytime privacy where no one can see in. The innovations in this area are enlightening to explore.
Roller Shades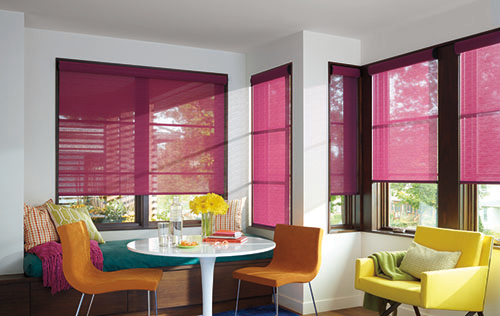 This is the most requested treatment option for 2019. Roller shades roll down from the top (or bottom up in special circumstances) and feature many stylish textures, colors, and durable materials. Roller shades are currently a hot trend and reflect our modern consumer's desire for a sleek design. For example, over a kitchen window,  perhaps you select a durable solar material weave that allows you to see out and is easy to clean. To perfectly complement the appliances in this room, you could add a flat metal fascia covering the roller at the top in a stainless steel color. Roller shades are great products to motorize, can work with a remote or your WiFi Router, and also feature cordless lift. Cords are taboo moving forward, and strict guidelines are in place to eliminate all cords from window treatments in the future.
Roman Shades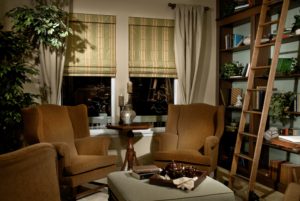 These cloth material shades work well with any fabric you can find in the world, to create a customized solution. Roman Shades can be traditional pleated or have a more contemporary flat look. This treatment will always feature the contoured valance when the shade is in the raised position, where the fabric folds over itself, and is a more decorative look. Roman Shades can be banded on the sides and bottoms to create a cool custom look. Custom Romans can also be motorized or cordless lift to prevent dangerous dangling cord hazards.
Woven Wood Shades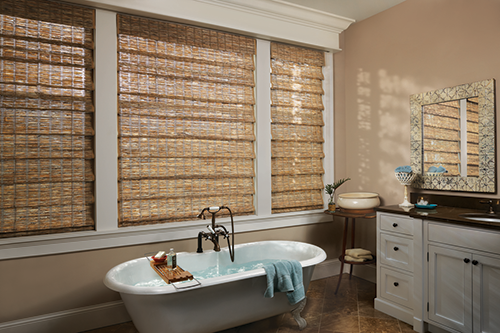 Natural fibers are all the rage – think bamboo and grasses in a tailored roller or Roman or Sliding Panel Track design. The perfect finishing touch to bring a natural sustainable material into your design. Wood Wovens feature a light filtering due to the open weave of the fabric, and can be sold with a liner also.  Finally, add convenience to this window treatment by opting for a motorized system to open and close the shades with the flick of a switch or controlled with an App on your smart device.
Finding the right window treatment that truly reflects your personal style will add the perfect finishing touch: essentially turning a house into your home.
Light control, eliminating glare, adding stylish decor, or making your home more energy efficient are a few common challenges that we address. We tell consumers that they may choose over time to have one to three treatments on one window. First addressing light control or privacy with a shade, then come back later with stationary side panel curtains under a top treatment, and adding custom bed coverings and pillows is the final layer of design. We address the need for function or privacy first, then decorating with fabric decor options after that.