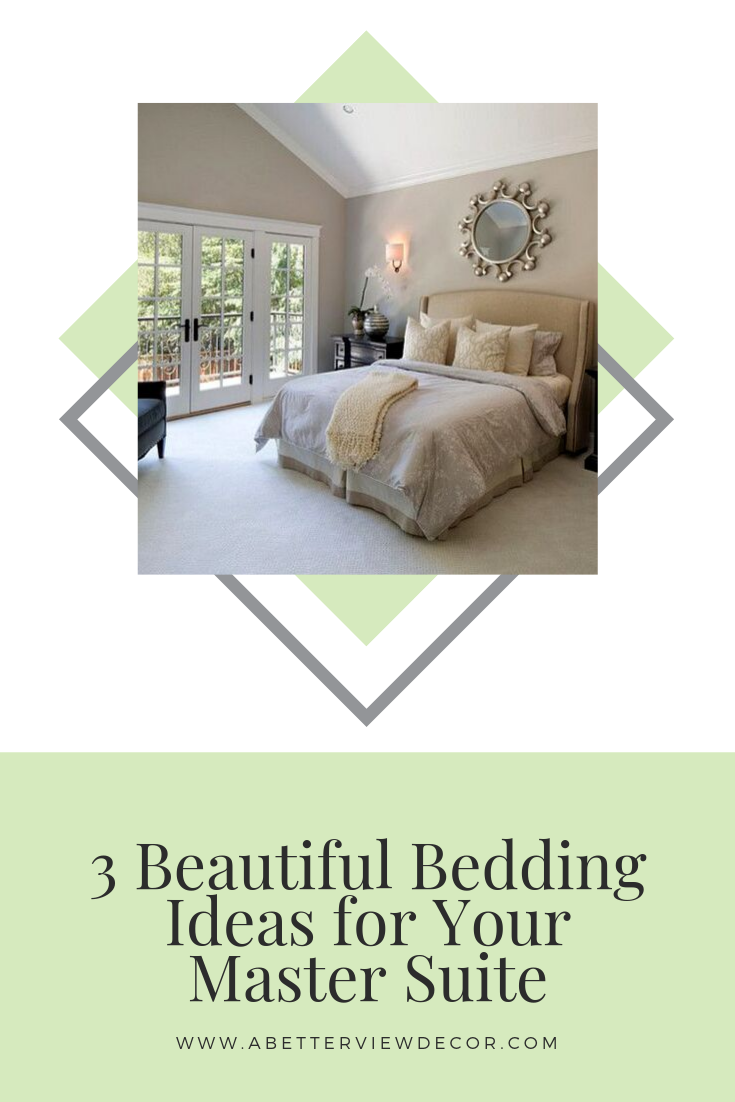 3 Beautiful Bedding Ideas for Your Master Suite
Helping people identify their personal style is how interior designers work. That style can be replicated throughout or individualized in the home. Sometimes, each individual room will have its own look and feel. While a kitchen may be a vibrant hub, the master bedroom environment typically reflects calm and comfort. These elements of individualized expression are often what turns a house into a home.  Everyone should have the opportunity to be surrounded by aesthetically pleasing design and comfort.
The master bedroom suite  – the inner sanctum – is a safe spot for relaxation and rest.
If you are looking for a way to decorate with different bedding ideas for your master suite, then check out these three simple, yet beautiful ideas:
Single Color Scheme
The simplest solution is to stick with a single-color scheme. Start with neutral paint (Benjamin Moore Revere Pewter is a popular choice) and accent with a single color for all bedding and window treatments. There is no need to do an accent color or anything complementing the main color – color symmetry is calming and soothing. Variety can be easily achieved by mixing and matching materials as long as they are in the same color scheme. For example, tie in the wood stained floors with a natural fiber wood woven banded Roman and linen bedding.
Go Overboard with Pillows and Fabrics
Another idea for how to create a comfortable master suite is to go with heavy, fluffy pillows which makes lounging in bed awesome. Your bed will feel like a cushiony cloud that you can fall upon. A thick duvet cover with a Mohair coverlet can complete the ensemble. Choose a light up in the air feel with Sheer fabric curtains, or go with hobbled Roman Shades for balance and harmony. You may wish to either choose a window treatment that mirrors the duvet in terms of color or print. It mimics the saying of having the belt match the shoes when putting on clothing.
Clean and Sparse
For a more modern look, keep the bedding area sparsely decorated. Keep bedding in solid designs (don't be afraid of bold colors) to create this contemporary setting. Use one long bolstered triangle style pillow as a back rest, great for support when reading in bed. Borders, banding and trim accents, and tailored dust ruffles are ideal.  Drapery with trim on the leading edge are the perfect finishing touch. Texture is important to provide a nice tactile experience – think tone on tone embroidered fabrics with Hunter Douglas Motorized Pirouettes window treatments. White or Cream drapery on Wrought Iron hardware is an easy accent that gives the option to change bedding over time.
Decorating the master suite is fun and easy. If you are looking for something modern and elegant, then a simple design with neutral colors may be just the ticket. If, however, you want a bed that you can sink down into, then a fluffy duvet and drapery with Roman shades is the answer. Regardless of what style you choose, it is important that it speaks to you and makes you feel truly rested in the morning and cocooned in a safe space at night.