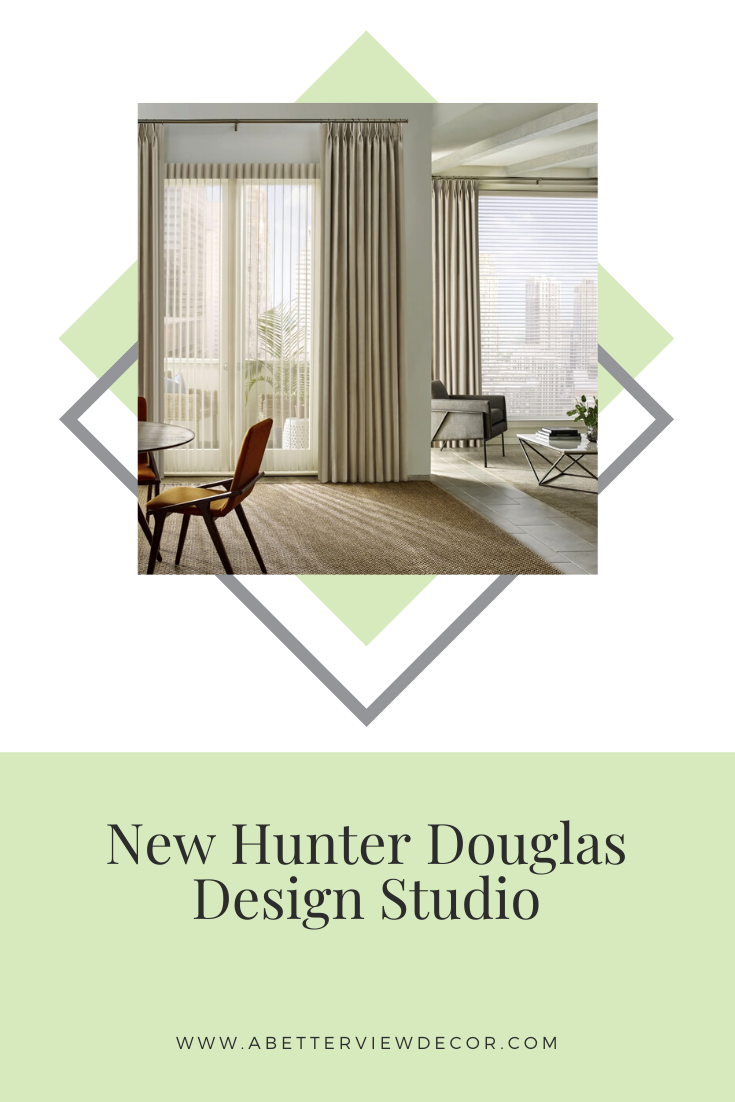 New Hunter Douglas Design Studio
One of the most prominent industry leaders in custom window coverings just announced their new Design Studio. Hunter Douglas is bringing all the finishing touches to your window treatments with personality, exclusivity, and perfect harmony.
The HD Design Studio includes finishing touches in the form of fabrics for four different styles: Side Panels, Drapery, Roller Shades, and Roman Shades. This fabric collection is intended to pair perfectly with all Hunter Douglas window treatments and complete your home decor with unique, yet fashionable stylings.
What Makes This Collection So Important?
What makes this collection so important, you may ask? Well, that's easy – the highly curated and exclusive fabrics, of course!
Hunter Douglas is bringing the complete window solution to any room within your home. The collaboration is unmatched. Not only is Hunter Douglas one of the most well-respected window covering manufacturers in the industry, but the chosen partnerships for this studio launch makes it that much better.
The collection utilizes nationally-recognized fabric producers, but they went beyond that and brought in another unique value to the overall drop. New York Designer and Artist, Rebecca Atwood collaborated on a fresh color palette that was inspired by her passion for watercolor techniques. Needless to say, there's nothing typical about these textiles.
As HD puts it, "Signature fabrics range from sophisticated silk blends and sheers to elegant velvets and jacquards. We recommend layering and mixing fabric patterns and textures to create a captivating experience in any room."
Here's What You Need to Know About the Collection:
All Four Styles Revealed 
SIDE PANELS
The Design Studio offers three different types of side panels to add depth, dimension, and a little hint of drama to your overall space. By layering Hunter Douglas window treatments with one of the carefully-curated fabric side panels, your visitors are obligated to mention the beauty. Not only does this window treatment accessory create the perfect finishing touch, but it also provides light and energy control.
Side Panel styles available are Two-Finger Pinch Pleat, Two-Finger European Pinch Pleat, and Grommet top.

DRAPERY
Going hand in hand with side panels, drapery can set your windows apart and help reach the desired overall effect for your windows. The eight fabrics designed by Atwood are intentional, distinct, and texturized. If you want to elongate your windows, you can't go wrong with checking out the Design Studio Draperies.
Drapery is available in Two-Finger Pinch Pleat, Two-Finger European Pinch Pleat, and Ripplefold styles.
ROLLER SHADES
Is simplistic your aesthetic? Look no further. The Design Studio Roller Shades are refreshingly gorgeous. Rollers are encased beautifully in a cassette. HD highlights the roller shades collection as "the ideal canvas for showcasing the whimsical patterns and fresh color palette of our unique fabric collection from NY designer Rebecca Atwood."
These style shades are available in both opaque and semi-opaque choices with regular roll or reserve roll options.
ROMAN SHADES
Whether you're looking to showcase your Roman Shades by themselves or pair with a side panel or drapery, the Design Studio Roman Shades are quite exquisite. You can also add a flat valance in eight-inch, 12-inch, or 16-inch heights. Romans fold into a pretty overlapping valance when in the open position and help with sound absorption.
The fabrics provided can be luxurious, minimalistic, or dramatic- it's whatever your personality is calling.
Needless to say, the Hunter Douglas Design Studio is providing HD customers with a customized look that's hard to beat. Dress up your windows a step further with these finishing touches.